2009-05-18
0 comments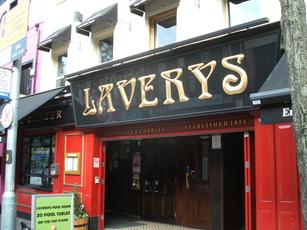 Laverys is situated on Bradbury Place opposite Benedicts Hotel and advertises itself as "Belfasts oldest family run bar". The great thing about Laverys is that is has something for everyone:
Great Guinness? Check
Quiet downstairs bar? Check
Lively back room with modern music? Check
Pool room upstairs with a dozen tables? Check
Alternative club on the 1st floor? Check
Off license? Check
You get the idea. It's hard to imagine anything you'd want on a night out that Laverys does not have other than a hardcore nightclub like Tompsons and perhaps better drink offers.
However, what Laverys does do, it does very well indeed. Downstairs the main is almost always quite quiet, making it ideal to share a few drinks with friends or even grab a quiet pint on the way home from town. It's always well staffed and kept clean. The bar staff are in my opinion the most professional within the Queens Quarter. The drinks are always fresh and delicious. With an extravagent wine list and more whiskeys than most bars have beers you will always find something nice to drink. 
The back bar comes to life later on in the night and is a great place to go to find parties or keep drinking till closing time. 
The alternative club upstairs is often host to all kinds of live acts, often indie and rock bands. The club is called 'The Bunker' and it has different music every day Monday - Friday. 
The pool room has a distinct american feel to it and even has an American pool table. If you'd rather play on a proper table however, there are a dozen or so to play on, so there's always one available and at 50p a game you can afford to play all night. 
The bar is always trouble free and the clientele are generally a few levels more upmarket than The Globe down the street (which isn't a bad bar to be fair). 
My favourate thing about Laverys is the off license next door. After last orders you can get a few beers to take home with you, there's no need to let the fun stop at 1am. 
I'm going to give Laverys 18/20 - it's a good bar.
Links to this post